Thank You For Your Message!
One of our representatives will reach out to you as soon as possible.
Learn About Sponsored Brands Videos
Get Real Results with Videos that Don't Cost a Fortune
Video is one of the most compelling forms of media when selling a product. The ability to add Sponsored Brands Video to your Campaign Manager increases your opportunity for impressions, clicks and ultimately sales. There are many SaaS solutions for "creating your own video", but honestly, who has the time to learn a new software let alone spend the time trying to get your creative juices flowing. Most production companies charge a forture. Our model is simple… Pick a package and we do it for you. Did we mention that we're experts?
See Our Sponsored Brands Video Work
Get More Impressions, Higher CTR's and More Sales with Sponsored Video Ads
Money Back Guarantee
Videos 100% Made for You
Packages Start at $99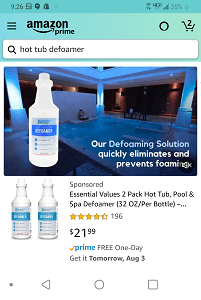 Get More Real Estate In Amazon Search Results with Sponsored Videos
Give Your Buyers More Confidence By Adding a Video To Your Listing
Sponsored Brands Video Packages Pricing
Simply Provide Us With Your ASIN or URL for Your Amazon Listing
20 Second Video
Royalty Free Music and Background
We Do It All: Write, Design, Edit
7 Day Turnaround
We do it all with a longer video.
40 Second Video
Royalty Free Music and Background
We Do It All: Write, Design, Edit
7 Day Turnaround
We Design Your Content  with Amazon Requirements in Mind. Guaranteed.
Sometimes ad formats or specific content in your ads can be rejected. Our Guarantee to you ensures that when you pay for a video ad or Enhanced Brand Content that you walk away with assets that will be approved. If for whatever reason they don't get approved, we will either edit the content or provide you with a refund.
The good news is, we have you covered. We've produced hundreds of videos & A+ / Enhanced Brand Content for Sellers to use on Amazon.
See Our A+ Detail / Enhanced Brand Content Work
Increase Your Conversion Rate by Up to 20% with A+ Detail Pages
Money Back Guarantee
Videos 100% Made for You
Packages Start at $249
Enhanced Brand Content (A+ Detail) Package Pricing
Always know what you'll pay.
We Write & Repurpose Existing Image Assets
1 Header Image + 4 Image Assets
Repurposed  Amazon Listing Images
SEO Friendly Original Content
7 Day Turnaround
We Write & Create 100% Original Assets
1 Header Image + 4 Image Assets
Original Image Assets
SEO Friendly Original Content
5 Day Turnaround
Get your custom Content as Simple as 1.2.3 
Review our packages and order. *NOTE* Your Amazon Account must be Brand Registered to upload content. Upon checkout, we will ask you to provide your Amazon Product Listing and a few other helpful attributes. We want to be sure we deliver your design to your brand standards and requirements.
After the order is placed, your project will be assigned to a designer, writer or both. We review the listing to understand your product, research your product description, reviews and Q&A to develop a custom strategy to best showcase your product
After our initial draft is done, we will send to you for review. This is your opportunity to provide feedback on look, feel, music, keywords, etc. Once changes are made we will send you the final files for you to upload directly on Amazon. We're happy to provide instructions as well if this is your first EBC or Sponsored Brands Video.
Frequently asked questions
DO I NEED TO SEND YOU MY PRODUCT TO DO A VIDEO?
No, our videos are created with existing product image assets and content produced in way that utilizes great background imagery or video. 
WHAT REQUIREMENTS ARE THERE TO HAVE EBC / A+ OR VIDEO ADS WITH AMAZON?
In order to add EBC / A+ Content or Sponsored Brands Video, a Seller must be Brand Registered and have access to Sponsored Brands in the Campaign Manager or A+ Content Manager in Advertising
IS THERE A REFUND OR GUARANTEE?
While we're confident we'll deliver a great product, but sometimes there are unforeseen circumstances getting approval. If your content does not get approved by Amazon, we're happy to work through the necessary changes or provide a refund. It's our guarantee.
WHAT FORMAT WILL MY SPONSORED BRANDS VIDEOS BE IN?
MP4 Video File, 1920x1080px (16x9 Aspect Ratio), 20 sec videos will be approximately 20-30MB, audio will be 130kbps.
WHAT FORMAT(S) WILL A+ CONTENT / EBC BE IN?
Files for A+ Content / EBC will be delivered as a package. Each Design will be it's own image file, the content will be in a text file and there will be a PDF version displaying how the Modules come together
HOW DO I ADD ENHANCED PRODUCT DESCRIPTIONS (EBC / A+) TO MY LISTING?
Under Advertising, A+ Content Manager must be available. You will click "Start Creating A+ Content" link and proceed to click "Enhanced Product Descriptions" then "Add Module"
HOW DO I ADD SPONSORED BRANDS VIDEOS?
Under Advertising, go to Campaign Manager and "Create a Campaign". You will choose "Sponsored Brands" and select to the Ad Format "Video BETA". After selecting your product, you will upload your video and add your keywords. Submit and wait for Approval!
HOW DO I ADD VIDEOS TO MY LISTING?
Under Inventory in Seller Central, go to "Upload and Manage Videos" and click "Upload Video". You will upload the file and enter an SEO friendly Title. You can include any ASIN (yours or a competitors) in the "Related Products" section. When finished, hit Submit
WHICH A+ CONTENT / EBC MODULES DO I USE?
Our Standard & Basic Packages use these modules: 1 600x180 "Standard Company Logo", 1 "Standard Text", 1 300x300 "Standard Single Left Image", 3 300x300 "Standard Three Images & Text"
HOW LONG DOES IT TAKE TO GET MY ASSETS?
Assets will be sent to the email used when placing an order. Standard & Pro Packages deliver within 5 calendar days, Basic packages can take up to 7
HOW DOES THE COST COMPARE?
You will find our prices extremely competitive. In fact, we believe you won't find a US Agency with better pricing. We started BrandedSeller.com because we knew we shouldn't have to pay $700 for A+ and $1000+ for this content from a typical agency, nor did we have the time to do it ourselves.
WHAT CAN I EXPECT FOR PERFORMANCE WITH VIDEO ADS?
While the nature of every product and every market is different, there is no guarantee how your video add will perform. However, the biggest advantage we've seen is very high CTR's (Click Through Rates). Like all advertising, there is risk. It is important to do your keyword research.