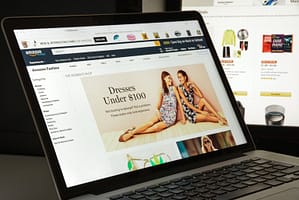 Sponsored Brands Video on Amazon is the next in Amazon selling strategy. 90% of viewers say product videos were helpful in making their purchasing decisions, 64% of consumers were more likely to buy a product that included a video, and viewers retain 95% of a brand message after a branded video compared to text alone.
One of the biggest challenges in Amazon Selling is getting your brand message across with just images and product descriptions. When done right, a Sponsored Brands Video on Amazon propelled your brand and products into the spotlight of your perfect customer.
Here are key guidelines and best practices to get your most effective ad campaign on Amazon approved.
Anatomy of a Sponsored Brands Video on Amazon
Sponsored brands video on Amazon will be displayed to your shoppers on your listing as follows.
Detail Page: An optimized title, review count, star rating, Amazon Prime eligibility, and price are displayed along with the product's primary image.
Automatic Video: While scrolling, sponsored brands video on Amazon will play automatically when 50% of the video is visible on the screen.
Mute Button: Videos will play on mute with the option to press the toggle button and play sound if it's available. No toggle option will be visible if the video doesn't include audio.
Sponsored Brands Video on Amazon: Best Practices
Video and Audio specifications
| | |
| --- | --- |
| Video duration | Between 6 and 45 seconds (30 secs or less highly recommended) |
| Video dimensions | 1920 x 1080px, 1280 x 720px or 3840 x 2160px |
| File size | Less than 500MB |
| File format | .MP4 or .MOV |
| Aspect ratio | 16:9 |
| Video codec | H.264 or H.265 |
| Video profile | Main or Baseline |
| Frame rate | 23.976fps, 24fps, 25fps, 29.97fps, 29.98fps, or 30fps |
| Video bit rate | Minimum 1 Mbps |
| Video scan type | Progressive |
| Audio codec | PCM, AAC, or MP3 |
| Audio format | Stereo or mono |
| Audio bitrate | Minimum 96 kbps |
| Audio sample rate | Minimum 44.1khz |
| Letterboxing or pillar boxing | Videos must not have black bars on any side of the video content |
| We do not permit blank or black frames at the start or end of videos. | |
(advertising.amazon.com)
A Sponsored Brands Video on Amazon is also your chance to let your branding, marketing, and creative best practices shine.
Product-Centric Video: Drop the fluff and let your product take center-stage. A video that shows the product (primarily) in the first second, tends to perform better. Engage your shopper immediately.
Length of Video: We recommend committing 20-30 seconds in length. It's enough to hold your shopper's attention, relay an effective message, and display and a handful of memorable key selling points.
Format: Consider the customer's perspective of your video. It will be inline with their search results, play automatically, and without sound. Adding on-screen text allows the video to be effective without audio. The font and opacity of the text should be effective for the 55% of Amazon shoppers that order directly from their smartphones.
Video Loop: The video will replay automatically. Consider a creative way to make the loops seamless. We recommend a subtle finish to give the customer a moment to breathe.
Will Your Video Be Accepted?
Amazon Advertising takes its Sponsored Brands Video on Amazon criteria seriously.
The most common moderation rejection reasons include
Videos that include empty frames and do not engage customers
Abrupt edits or videos that feel unfinished
Amazon products, services, or trademarks are strictly prohibited
Customer reviews or feedback are not allowed to be featured in any way within the video
On the other hand, here favorable acceptance criteria that are considered in addition to the technical criteria.
The on-screen text and other content within the video shouldn't obscure the interface.
Language in the video should be easily understood by the target audience.
Videos shouldn't contain black bars on either side. (See framing/sizing)
On-screen text is to be legible and a minimum of 30 pts.
Get Real Results Right Away
Getting a Sponsored Brands Video on Amazon approved takes time and expertise. But it's only half the battle. We specialize in creating Sponsored Brand Videos for your listing that will sail through the application process so you don't lose time or sales.
Clients rely on us to show up for their shoppers at every stage of the buyer's journey. Need a Sponsored Brands Video on Amazon this week? Send us your listing and we're on our way.